Now Available: 2019 Mazda3 Sport in Yarmouth, NS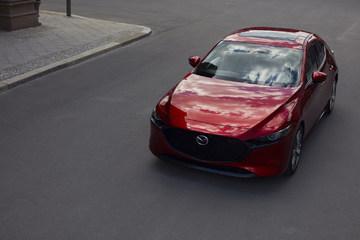 Are you in search of an upscale sedan that offers the ultimate driver's experience?
Then get behind the wheel of the redesigned 2019 Mazda3 Sport. Everything about this car aims toward providing you with a smooth and relaxing ride. Plus, the interior is full of trendiness and style. So, let's take a closer look at everything the 2019 Mazda3 Sport will do for you.
Select Your Motor
Depending on your trim, the Mazda3 Sport offers you two different motors.
The GX comes with the SKYACTIVE-G 2.0 4-cylinder engine. And the power's no slouch here as you're getting 155 hp and 150 lb.-ft. torque. For a car this lightweight, those numbers go a long way. Especially when you pull on to the highways and push your foot on that peddle.
With this engine, a 6-speed manual transmission comes standard. But if you prefer an automatic transmission, that's an option here. It'll even come with shift mode and a Drive Selection Switch.
The two other trims come equipped with a SKYACTIVE-G 2.5L 4-cylinder motor. This is the engine you'll want if you're looking for the most power possible. With 186 hp and 186 lb.-ft. torque, you'll really feel the engine rev and effortlessly push to fun speeds.
Just like the other motor, a 6-speed manual transmission comes standard. However, a 6-speed automatic transmission is an option here. On the GT trim, you'll even get paddle shifters behind the wheel for the smoothest shifts ever.
Step Inside for an Upscale Luxury Interior
The Mazda3 Sport's cabin keeps your comfort at the forefront.
For starters, heated front seats come standard. Never again will a cold morning commute feel like an uncomfortable experience. And if you're looking for some extra style, leather upholstery is an option as well.
Also, the soundproofed cabin ensures you drive or ride in peace. Plus, when combined with that Bose sound system, you'll hear nothing but the highest quality audio. You'll never miss a bass drop during a song or whisper during a podcast.
This year, you'll also receive an upgraded infotainment system. That 8.8-inch touchscreen ensures all menus are easy to access and read. Plus, it even comes with Apple CarPlay and Android Auto. So, enjoy all your favourite music streaming and navigation apps.
Speaking of your phone, don't forget that Bluetooth comes standard. So, feel free to use voice control to make any calls or send SMS texts. Also, the 2-USB ports onboard ensure you remain connected at all times.
Safety Comes Standard on the Mazda3 Sport
When driving the 2019 Mazda3 Sport, you'll gain access to all the basic driver assist features you'll ever need. Rearview camera, advanced blind spot monitoring system (ABSM), and rear cross traffic alerts all come standard. Also nice is the hill launch assist, to make stopping and going on inclined roads far less intimidating.
If you opt for the Mazda 3 Sport GS, you'll gain access to even more fun features. Mazda Radar Cruise Control makes your highway drives all the more relaxing with it's stop and go functions. In fact, even rush hour traffic feels like a breeze to navigate with this feature.
Other driver assist tools for the GS trim include Lane Keeping Assist, Lane Departure Warnings, Pedestrian Detection, and plenty more. You'll need to drive it to feel how these features will change the way you commute.
Get Your Mazda3 Sport at Yarmouth Mazda
There's no denying the 2019 Mazda3 Sport is one of the best upscale cars money can buy. After all, you can't go wrong with a car that packs, style, performance, and comfort in one trendy package. So, feel free to research the Mazda3 Sport. And while you're at it, stop by Yarmouth Mazda to test drive this car for yourself.
Sources: https://www.mazda.ca/en/vehicles/mazda3-sport/overview/