2017 Mazda CX-5 SUV Review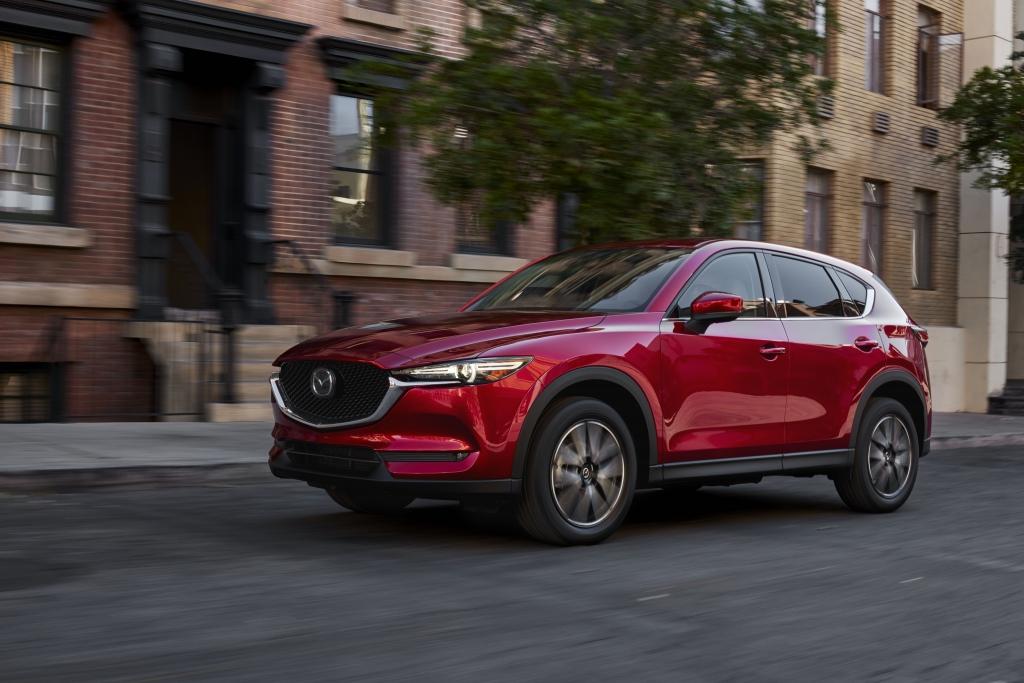 The 2017 Mazda CX-5 redefines the crossover segment with a dynamic design and cutting-edge features. People admire the tough and sleek exterior of this compact vehicle, which easily fits in tight parking spots. Thanks to a finely crafted powertrain and chassis, performance is engaging on every level. This SUV is also loaded with practical features, addressing the need for comfort, connectivity and safety.
Exterior Design
The first thing everyone will notice about the new Mazda CX-5 is the more athletic stance. Enhancing the lower and wider format are thinner and lower headlights, plus a mesh grille with a three-dimensional look. Sweeping lines down the body, and a tapered rear round out the redesigned exterior.
To make a truly dramatic statement, Mazda developed a new paint color, Soul Red Crystal. It has a three-layer structure with clear, translucent and reflective coats. Thanks to an innovative process the automaker calls Takuminuri, each vehicle looks as if it were painted by hand. This same technique has been used successfully with Machine Gray and Soul Red.
Performance
Two gasoline engines return to the Mazda CX-5 for 2017: the Skyactiv-G 2.0 and Skyactiv-G 2.5. Both use direct injection to maximize output and increase efficiency. Each works with either the six-speed Skyactiv-drive automatic or six-speed Skyactiv-MT manual transmission.
Completely new for 2017 is the Skyactiv-D 2.2 engine. For the first time, consumers in Canada will be able to refuel their Mazda CX-5 using diesel. Included in the setup are Natural Sound Smoother and Natural Sound Frequency Control, technologies developed by Mazda to minimized diesel knock, so the engine runs quieter. This innovative new engine will be available sometime in the second half of 2017.
Mazda improved handling by lowering the centre of gravity, while simultaneously widening the front and rear track by 10 millimeters. The predictive i-Activ AWD system is available to pair up with any engine, boosting handling. Tanks to a synthetic oil used in the all-wheel drive, even in the extremely low temperatures of Canada it will maintain the proper viscosity, so performance remains intact.
Interior Features
To design the interior layout, Mazda focused on the steering wheel, with all features on the driver's side flowing from there. All controls sit in positions where drivers of all sizes can easily reach them. An available Active Driving Display projects important information, such as navigation directions, onto the bottom of the windshield as a way to minimize distraction. This concept makes a statement about the Mazda CX-5 being primarily for drivers.
Drivers and passengers are couched in comfort, thanks to seats with excellent depth and supportive padding. The backseat has a two-step reclining feature, greatly increasing its versatility.
Thanks to different interior packages, you can get a completely black or white cabin, instead of the regular two-tone look. Depending on the trim level, you can get decorative elements such as a dash inlay that blends natural wood grains with a metallic look, creating a completely unique effect.