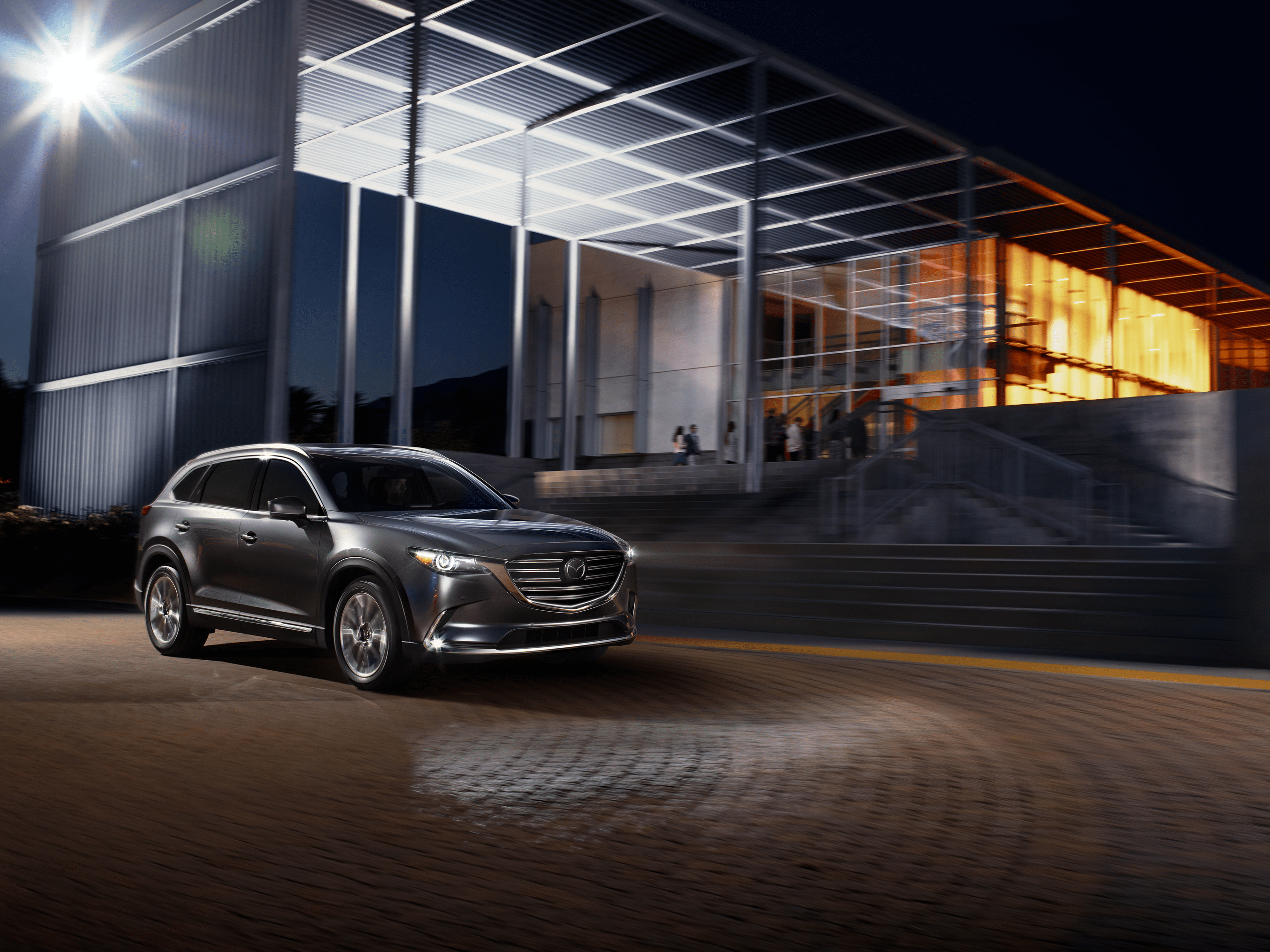 The 2019 Mazda CX-9 is a great way to travel in style, while also having everything you need in a family SUV. As you've come to expect from Mazda, Canada, this vehicle looks sporty and has the fun-to-drive characteristics to back that up. Superior quality inside and out makes for a more comfortable way to get around, which is great news for everyone.
Read on to learn all about the new 2019 Mazda CX-9 available at Yarmouth Mazda.
Accommodate the Entire Family
Take everyone along for the drive, without anyone suffering. The 2019 Mazda CX-9 is perfect for accommodating every member of the family, thanks to three spacious rows of seating. Clever designs make this the vehicle ideal for transporting big groups.
Through the Mazda Connect system, you can select audio entertainment hands-free, keeping you and your passengers entertained during long drives. Upgrading to the 12-speaker premium Bose sound system, you get an audio experienced customized for the interior, which translates into superior sound quality.
Strong and Efficient
The Mazda CX-9 crossover does boasts excellent performance. That matters when you travel through mountainous areas or need to pass on the highway. At the same time, the efficient design means you're not stopping at the pump constantly, which is a perfect combination.
Thanks to Skyactiv technology, the Mazda CX-9 has been built from its very structure to push the limits of performance and fuel efficiency. This is why from the very first time you climb behind the steering wheel, the SUV feels so much different.
Through the Skyactiv-G 2.5 T engine, you gain command of 310 lb.-ft. of torque at a mere 2,000 rpm. That means you feel an immediate rush of power each time this SUV starts moving. The dynamic pressure turbo unlocks this potential, while also allowing the engine to sip fuel, so you save more money at the pump.
Protection All Around
It's natural to worry about keeping your family safe, so it's great to know the 2019 Mazda CX9 has been built from the ground-up with that in mind. This crossover has a structure designed to absorb impacts in areas where nobody sits. It also bristles with advanced technologies to help ensure accidents don't ever happen in the first place.
First and foremost, Mazda CX-9 safety comes with the available i-Activ all-wheel-drive system. It improves handling even as road conditions are constantly changing by monitoring numerous factors 200 times each second and adjusting accordingly. Better handling means less likely to get into accidents, so you stay in control.
Plenty of other advanced safety technologies are available for this SUV. Among them is the new 360-degree View Monitor, which shows the surrounding area so you can better spot obstacles.
Now that you know more of what the 2019 Mazda CX-9 offers for your family, it's time to experience it in person and see what all the excitement is about. Contact Yarmouth Mazda to arrange for your test drive today or check out our inventory online!
Sources: