2019 Mazda MX-5 Soft Top Hardtop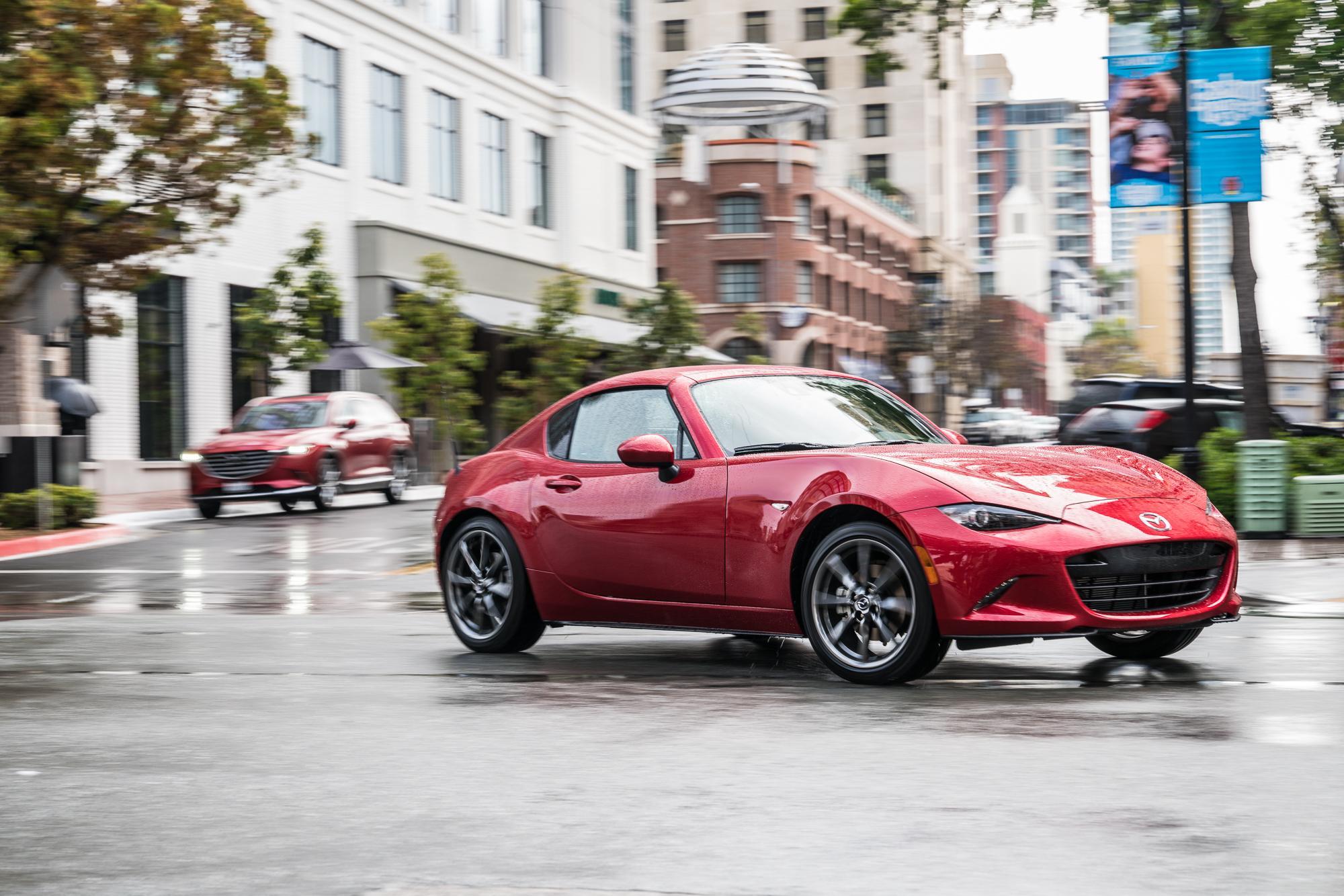 There's a certain standard for purist driving enthusiasts, especially when it comes to convertibles. It's about the connection between the car and the driver, and the Mazda MX-5 does it extremely well. In fact, Mazda's engineering philosophy – Jinba Ittai, or horse and rider as one – tells you that you'll get the best-connected experience behind the wheel.
For the 2019 Mazda MX-5, you have two choices that achieve the same result. Both the Mazda MX-5 RF and the Mazda MX-5 soft top are available at Yarmouth Mazda. What are the differences, and which one should you choose?
2019 Mazda MX-5 Soft Top
It's the world's best-selling roadster since its introduction in 1990, and for good reason. Nearly perfect front-to-rear weight distribution has been achieved, lending the Mazda MX-5 to incredibly nimble, responsive handling. And being a rear-wheel-drive roadster might be unusual in today's market, but it's one of the intrinsic features that makes the Mazda MX-5 so darn fun behind the wheel.
The 2019 Mazda MX-5 gets a power boost over the previous model year, by 17 percent. Its 2.0-liter SKYACTIV-G four-cylinder engine produces 181 horsepower and 151 lb.-ft. of torque, still naturally aspirated as always.
But what sets the 2019 Mazda MX-5 Soft Top apart from its hardtop counterpart? The popular soft-top MX-5, first and most notably, has a soft folding convertible top. Manually operated, it's light and nimble and doesn't require that you ever leave the driver's seat to open or close it. It's available in black as standard equipment, while for 2019, there are two additional options: Dark Cherry or brown.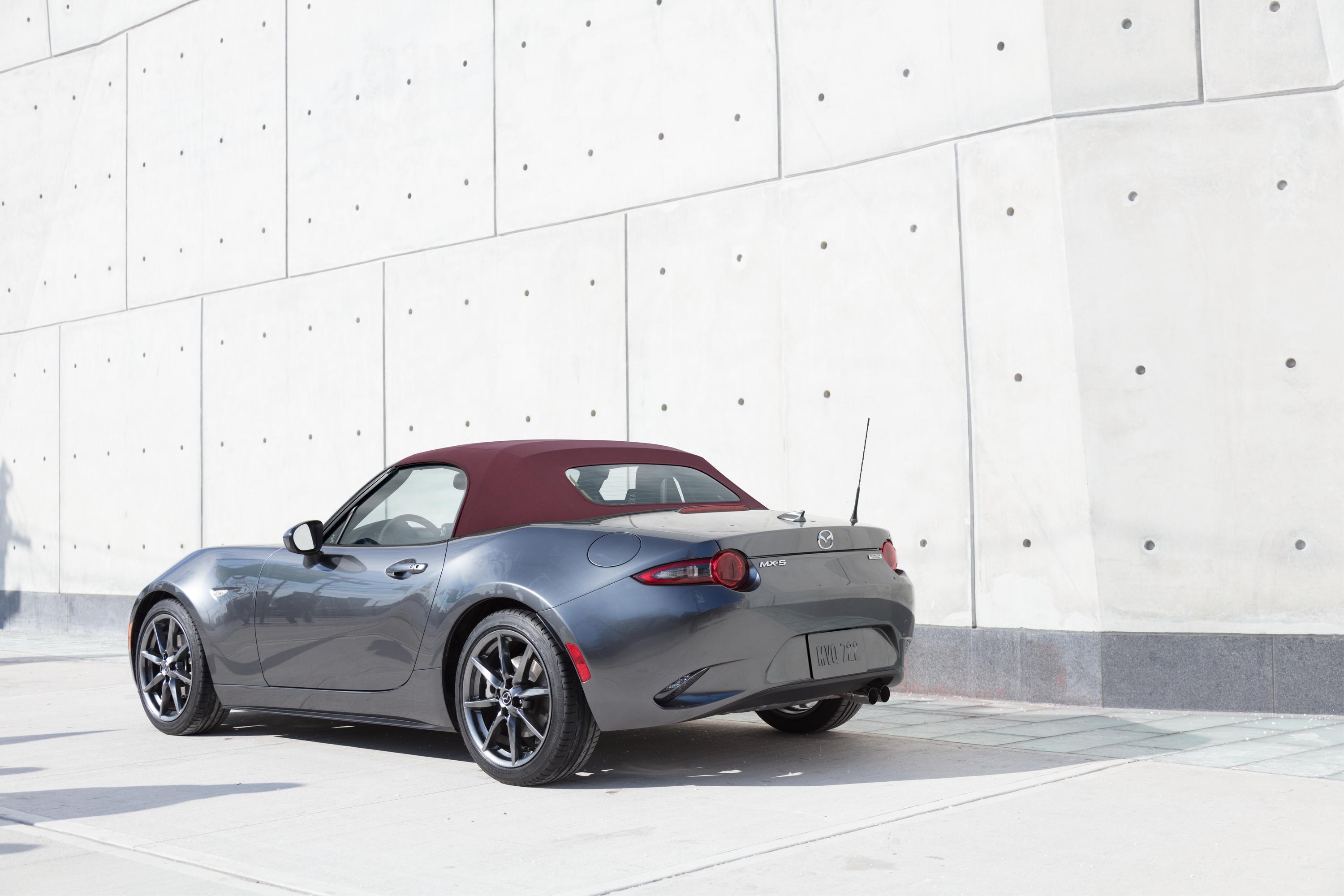 For 2019, the Mazda MX-5 has three trim levels available:
The MX-5 GS is the entry level, and includes 16-inch black alloy wheels, manual climate controls, Advanced Blind Spot Monitoring, a 7-inch colour touchscreen display with MAZDA CONNECT, and LED headlights, signature lighting, and LED taillights.

The MX-5 GS-P adds more valuable features, including 17-inch black alloy wheels, LED daytime running lights, a Bose premium audio system with navigation, heated seats and exterior mirrors, and more.

Going further yet is the MX-5 GT. It includes 17-inch alloy wheels with a gunmetal finish, SiriusXM radio, automatic climate controls, leather-trimmed seats, Adaptive Front-Lighting System, Traffic Sign Recognition System, and other premium options.
2019 Mazda MX-5 RF
What about the hardtop convertible, the 2019 Mazda MX-5 RF? The first thing you'll notice is a visual difference. Rear stanchions add a coupe-like appearance. And when the power convertible top is operated, the rear section lifts-up and down for the hard top to nestle into it. It's the fastest operating hardtop of its kind, needing only 13 seconds to go from open air to closed cabin or vice versa.
You'll also notice just two trim levels are available for the MX-5 RF, the GS-P and GT trims. Equipment between the trim levels are very similar to the soft-top sibling, giving the 2019 Mazda MX-5 RF an elevated entry-level feel and price point. And driving dynamics? The MX-5 RF gives the same experience in the driver's seat.
Which Should You Choose?
The choice is up to you – the classic soft-top convertible appearance you get with the 2019 Mazda MX-5 or the unique hard-top style of the MX-5 RF. Whichever option you choose, you can't go wrong with a two-seat roadster as stylish and fun to drive as this.
Learn more about the 2019 Mazda MX-5 Miata when it arrives at Yarmouth Mazda, your local Mazda dealer in south western Nova Scotia.
Resources: https://www.mazda.ca/en/vehicles/mx-5/overview/