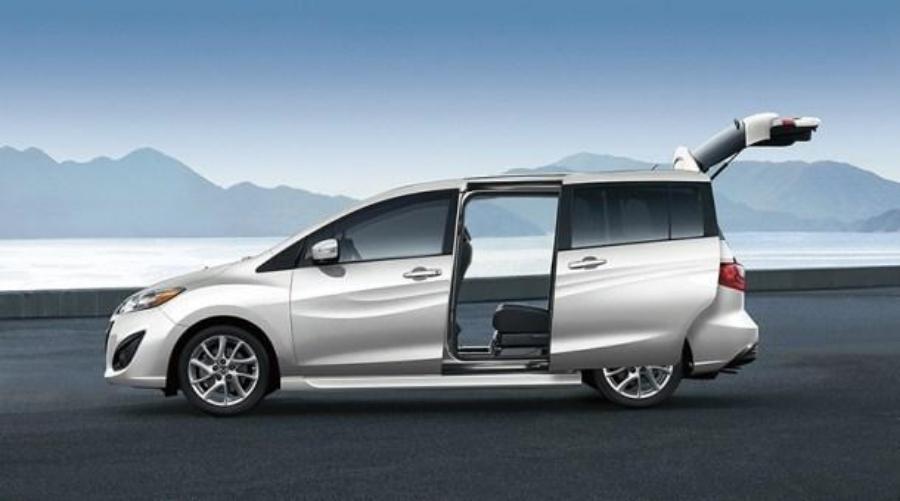 Minivans are really feeling the squeeze from crossovers these days, so they now need to be better than ever to attract buyers and keep them away from the clutches of their SUV-styled rivals. The
2017 Mazda5
is one of the best minivans there is in the market at the moment, which makes it all the more surprising Mazda no longer offers it in the US. Anyway, it's still available here in Canada so here are what we think are top 5
Mazda5 features
.
Seating
The first and foremost reason for
choosing
a minivan is to have more seats than you have in a family sedan, and the
Mazda5 minivan
can accommodate up to six people. That may not be as many as the common convention of seven in such a vehicle, but it delivers a great balance between space for passengers and cargo. When you don't need to carry a full complement of passengers, the
Mazda5
offers a massive 857 Litres of cargo capacity.
Clever storage
Lots of cargo space without passengers is useful, but a minivan worthy of its name has to have enough storage even when the seats are full of people. The Mazda5 has a unique bento box-inspired storage design that includes a second-row foldout tray with cup holders that's hidden away conveniently under the seat when not in use. There's plenty of other storage bins and cubby holes throughout the cabin, so you're never short of somewhere to put things.
Warranty
We generally buy new vehicles because they're expected to be more reliable than an older model, but it doesn't hurt to have the extra peace of mind provided by a good warranty too. The 2017 Mazda5 doesn't just come with a good warranty though. Like all new Mazda models at the moment, the Mazda5 comes with what's currently the best new vehicle warranty on offer here in Canada as it's an unlimited mileage warranty covering you for three years.
Plentiful power
A fully loaded minivan has to move some serious weight, and that requires and engine with enough power to cope. All Mazda5s come with a modern 2.5-liter DOHC four-cylinder that develops a pretty useful 157 horsepower and 163 lb.-ft. of torque. The use of a smaller displacement four-cylinder instead of an old fashioned V-6 pays dividends when it comes to fuel economy. The Mazda5 therefore gets 11.1 L/100 km in the city and 8.3 L/100 km on the highway with the six-speed manual transmission or 10.8 L/100 km in the city and 8.2 L/100 km on the highway with the automatic.
Safety
The chances are you'll be ferrying around some pretty value cargo in your Mazda5 minivan; namely your family. You'll therefore be delighted to know there's some very advanced safety features employed to keep everyone safe and to help avoid incidents. The available Xenon (HID) headlights and halogen fog lights provide excellent vision at night and during inclement weather, while the rear back-up sensors are a huge help when it comes to detecting objects behind the vehicle when it's in reverse. Advanced dual front and side-impact air bags along with fast-inflating air curtains are there to protect the driver and the passengers in all three rows of seats in the event of an accident. And the likes of Dynamic Stability Control and Traction Control work hard to prevent wheel spin and deliver increased levels of traction during hard braking, acceleration and cornering.
These are just five great features of the
2017 Mazda5
, so to find out more and to arrange a test drive don't hesitate to get in touch with the guys at 
Yarmouth Mazda.